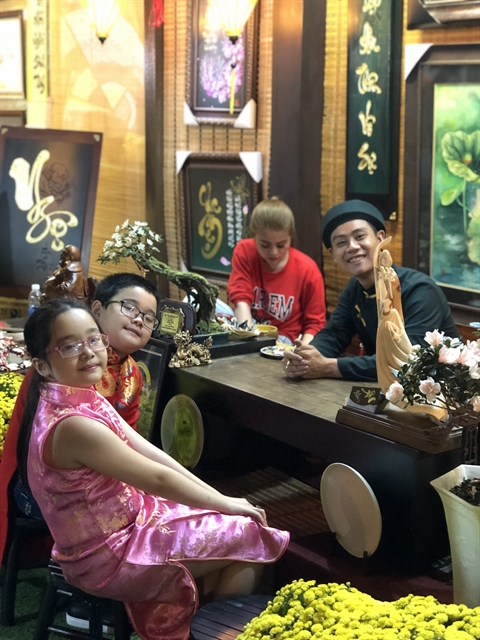 HCM CITY—  Hồ Chí Minh City Television (HTV) will broadcast a special two-hour programme on Lunar New Year's Eve (January 23) showing celebrations around the city and in neighbouring provinces.
The programme, which will begin at 9pm on HTV7, will feature a music gala called Tết HTV 2029 (Lunar New Year- 2020) with music, dance and drama performed by 100 artists.
Renowned singers Cẩm Ly, Vân Khánh and Nhật Cường will sing songs in praise of Spring and love.
Veteran theatre performers Thanh Thanh Hiền, Quế Trân, Kim Tử Long will appear in a series of excerpts from famous cải lương (reformed opera) plays. 
People's Artist Minh Vương and his young colleagues like Lệ Thủy and Trọng Hữu will perform in one and two-act comedies featuring traditional tales.  
HTV channels will broadcast cultural and art programmes and films every day from 5am until late from January 23-30. These will include traditional music and songs, and cải lương performances featuring veteran and young actors of Trần Hữu Trang Theatre.   
There will be live broadcasts of festivities including the Ông Đồ (calligraphy) Market and Nguyễn Huệ Flower Street in District 1. 
HTV officials said they have worked with TV channels based in the provinces for live broadcasts of Tết celebrations there.
 "Our work focuses on stories about the Vietnamese family to highlight traditional culture and lifestyle," said Nguyễn Minh Hải, head of HTV's music and arts office.
Việt Nam Television will air two programmes on January 24 and 27 featuring different cultural and art shows.
The show, Quê Hương Mùa Đoàn Tụ (Homeland in Tết), will includes reports and performances by overseas Vietnamese artists.
People's Artist and pianist Đặng Thái Sơn and his mother, pianist Thái Thị Liên, will be featured. Pianist Sơn will play a Vietnamese piece with his student, Đăng Quang.
Vietnamese-American pop star Trần Thu Hà will sing with her father, People's Artist and singer Trần Hiếu.  
The Gala Ngày Trở Về (Returning) is a special show focusing on Vietnamese businesspeople who have developed their careers overseas. Enterpreneur Trần Ngọc Phúc of Japan and Dr Nguyễn Thanh Mỹ of the US will be highlighted.  
Quê Hương Mùa Đoàn Tụ will air at 10:10pm on January 24, while Gala Ngày Trở Về will begin at 8:5pm on January 27.— VNS