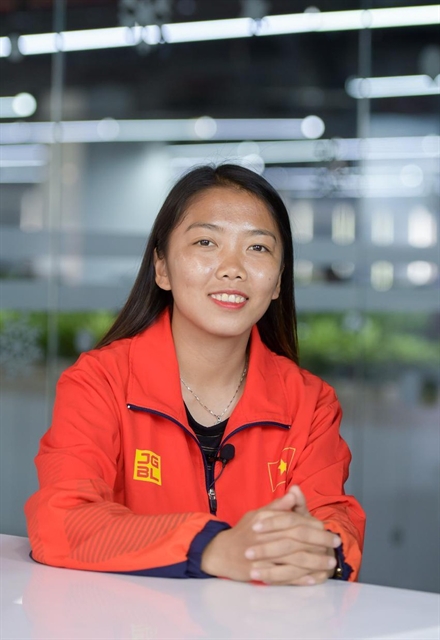 Football
By Lâm Giang
Huỳnh Như has a long love affair with the beautiful game since she was a child and reaching the top of her profession has only made her fall more deeply in love with football.
"If I had the choice again, I would still choose football as it is my passion. I want to devote my life to football after I retire and I want to bring women's football to my countryside home, the southern province of Trà Vinh," said the 28-year-old striker and captain of the national women's team.
Last year was full of success for the girl who burst onto the scene in 2013 when she was the top scorer with eight goals in the National Women's Football Championship. In 2019, she won the National Women's Football Championship, the AFF Women's Championship and gold in the Southeast Asian Games.
For her excellent performances, Như was this month one of 12 people to be honoured as an outstanding young citizen of HCM City in 2019.
"The award is a driving force for me to live better and aspire to complete ambitions and dreams in the next journeys. It made me realise our role and responsibility to the city where I live, learn, work and grew up,' Như said.
Như also expressed great gratitude to her coaches, family and fans who encourage her.
"My next goal is playing well in the third qualifying round of the Tokyo 2020 Olympics to be held in South Korea next month and defending the AFF title," she said.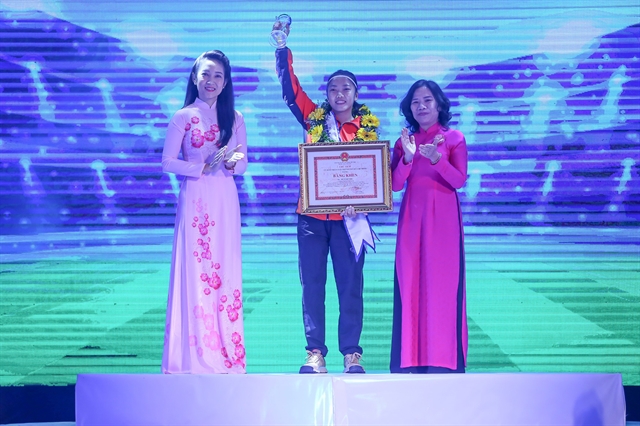 Football passion
According to Như, her parents inspired her love for football in her.
"My parents love football very much. When I was small, I often saw my father playing football. He was a member of a communal football team. During the World Cup, the matches often took place at late night so my parents often prepared food and invited their neighbours to watch and eat together. They also woke me up to watch football with them," Như said.
Her mother Lê Thị Lài said when Như was three years old, her favourite toy was a ball. As she grew a bit, she brought the ball out and asked boys to play with her.
"Now, seeing my daughter playing for the national team and bringing home glory, my family is very happy. Knowing that I am Như's mother, many people congratulated me when the women's team won the SEA Games title last December. I told Như that if possible I will go with her to any tournament," Lài smiled.
The turning point for Như came when she was in the fifth grade. She took part in a football event in the district of Châu Thành as the only girl and outshone all the boys.
Seeing her talent, coaches selected her for the women's football team of Trà Vinh City. However, just several months later, Trà Vinh women's squad was dissolved. Coaches introduced her to HCM City team and Như hasn't looked back since.
At the age of 16, Như left home for HCM City to train, where she became a key member of the HCM City team and then the national team.
Như said most of her time is spent training or competing, with little time to rest.
"During my career, I intended to give up football at one time. That was when I had just started to play for HCM City. I was too young and was away from my family, my salary wasn't high and the team's ranking wasn't good so I thought I would return home," said Như.
"But with the encouragement of friends, and especially my parents, I continued to try. And now, football is my career."
Inspirational
According to goalie Trần Thị Kim Thanh, Như inspired the whole team.
Thanh said Như knew how to encourage everyone and often reminded her teammates to play for their country.
"Off the pitch, Như is a glad and humorous person. She often tells funny stories to create a cheerful atmosphere in the team, helping footballers reduce stress after matches," Thanh said.
"Thanks to Như, in any circumstances, we can smile and continue to make every effort."
Nguyễn Tấn Lợi, deputy director of the Sports Centre District 1 of HCM City was impressed by Như's abilities when she first joined HCM City.
"Như had good skills. Although she was very young and missed home very much, she fell in line with her team very fast and developed quickly in both technique and tactics. She always tried her best. With her natural skills and competitive experience, she became stronger," Lợi said.
"Như has good discipline. As a captain, she says the right thing at the right time, so she often improves her team's spirit," she added.
"As a captain of both HCM City and national team, I always try to keep the balance in the team so my teammates feel comfortable and glad. I also always try to maintain unity in the team," said Như.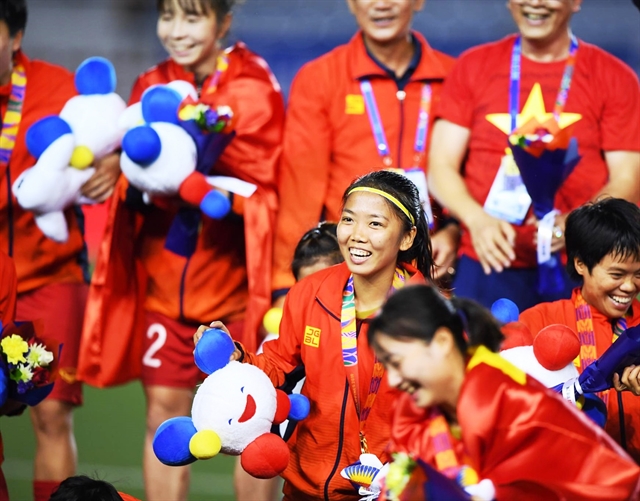 Achievements
Như rose to fame in 2013 at the age of 21 when she was the national football tournament's top scorer with eight goals.
In 2016, she won the Golden Ball award.
For national team, she won gold medals at the AFF Women's Championship 2019, SEA Games 2017 and 2019, and silver in the AFF Women's Championship 2016.
Besides, she has helped HCM City win the National Sport Games 2018 and National Women's Football Championship in 2015, 2016, 2017 and 2019.
Female football concern
At present, Việt Nam has only six female football teams and Như is the only female footballer from Trà Vinh Province in the national team.
According to Như, Vietnamese women's football hasn't been developed much because of societal preconceptions. Parents don't want their girls exposed to the sun and rain and women themselves are afraid of losing their beauty by playing.
"Sometimes, when I see girls training, I also feel they are to be pitied. But now everybody thinks more openly. If girls love football, they will persuade their parents to allow them to play," said Như.
"I tell any girl who wants to become a footballer that she should go to the training centre for a trial. Don't hesitate as a trial will help you know your ability. Furthermore, football needs a process of training," Như said.
"Once you have a passion and desire, you should try to complete it. Success comes when you aren't indecisive," she added. VNS