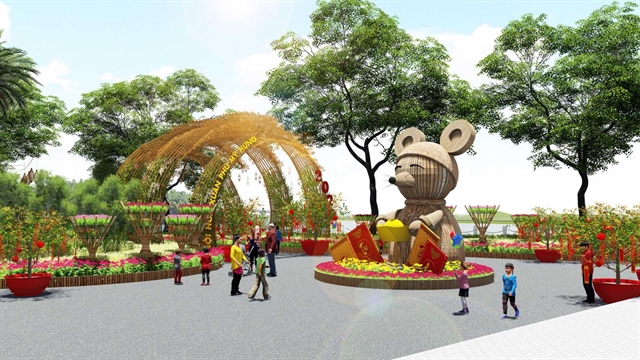 HCM CITY — The annual Phú Mỹ Hưng spring flower festival 2020 will open in Phú Mỹ Hưng City Centre in HCM City's District 7 on Saturday.
Lasting until January 29, the festival is expected to attracts millions of people living in HCM City and neighbouring provinces.
The festival this year is themed "Rước Lộc Đồng Hoa". Covering an area of 7ha, the festival will have four main parts: a spring road, spring wharf, spring garden and spring contribution.
The spring road is 700m in length on Tôn Dật Tiên Street. This is the main part of the festival which features the two main topics of flowers and paddy. On this street, there will be many kinds of flowers from all regions in the country.
There will also be a 5.4m high statue of a mouse, the zodiac animal of the year. In addition, there will be many other statues of mice on the road.
The other three parts of the festival will also feature many kinds of flowers. These places will also display traditional life in the countryside.
Flower artists from southern provinces will join the event, displaying their art works to visitors.
During the festival, many competitions will be organised for flower artists and Phú Mỹ Hưng City Centre's residents. The winning works will be displayed during the festival.
In recent years, Phú Mỹ Hưng's Spring Flower Festival is one of the key events organised in the city to welcome a new year. Every year, the event attracts about 1.5 million visitors.
The festival is jointly organised by Phú Mỹ Hưng Development Corporation and People's Committee of District 7.  VNS