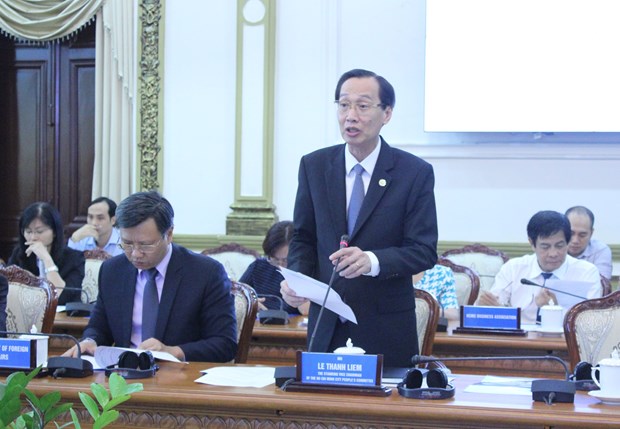 HCM CITY — HCM City seeks to attract foreign investment in smart urban projects and urban infrastructure, and looks forward to support from US businesses, a top city leader said.
Speaking at a meeting between city leaders and members of the American Chamber of Commerce (AmCham) in Việt Nam on Friday, Lê Thanh Liêm, deputy chairman of the city People's Committee, said over the years US businesses had helped strengthen co-operation between their country and the city.
The city was undertaking administrative reform and improving the investment environment to create favourable conditions for foreign businesses to invest in key projects, he said.
The People's Committee had held many exchanges and meetings with the US consulate general in the city and AmCham to discuss potential co-operation in fields the city had prioritised, he added.
According to Amanda Rasmussen, head of AmCham, the business group has 500 companies and more than 1,500 individual members, and all of them play an important role in promoting trade and investment between the two countries.
With extensive experience in many fields, US businesses could help the city address urban issues to boost economic growth and improve the quality of life of people.
AmCham members said the city was a magnet for foreign investors but its transport infrastructure was overburdened, which posed hurdles to its development.
They said the city needed to upgrade the infrastructure, especially in industrial parks, export processing zones, ports, and airports to attract more foreign investment.
They offered to provide modern waste treatment technologies to produce electricity or gas, but added that to use them, the city needed to sort waste more efficiently. — VNS