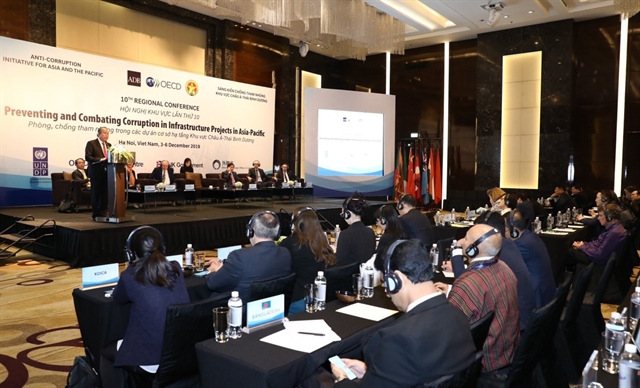 HÀ NỘI — Deputy Prime Minister Trương Hoà Bình has asked the Government Inspectorate to learn from international experience in combating graft, especially in infrastructure projects, in order to ensure the country's sustainable development.
He made the remark on Friday at the closing ceremony of the four-day 10th Regional Conference of the Anti-Corruption Initiative for Asia-Pacific, which was started in 1999 by the Asian Development Bank (ADB) and the Organisation for Economic Co-operation and Development (OECD), and was hosted this year by the Government of Việt Nam with the theme of "Preventing and Combating Corruption in Infrastructure Projects in Asia-Pacific."
Bình noted that infrastructure development were of critical importance to developing countries and Việt Nam sees infrastructure building as one of the three strategic breakthroughs to turn itself into a modern-oriented industrialised nation.
Resilient infrastructure was at the "heart" of efforts to meet the 17 Sustainable Development Goals listed in the UN 2030 Agenda, and could hold great influence on achieving the remaining goals such as health, education and energy, the Deputy PM stressed.
Citing a recent report from The United Nations Economic and Social Commission for Asia and the Pacific (ESCAP) which estimated that developing countries in the region needed about $900 billion a year for infrastructure development, out of the $1.5 trillion they needed annually to meet the 2030 Agenda, Bình said this gigantic investment warranted a new approach to ensure efficiency.
"There needs to be an approach that ensures resources are used in a right, transparent and sustainable manner, especially given how the public budget is finite and already stretched to the limit," Bình said.
The Vietnamese Government had carried out several measures to realise its goal of becoming an action-oriented, facilitating Government, including boosting administrative reforms and simplifying business conditions to alleviate undue burdens on enterprises, Bình said.
The Government is also focusing on stringent penalties for officials who are found to have extorted or harassed members of the public or firms, while at the same time, building e-Government and smart administration to improve transparency in public services.
He expressed confidence that Vietnamese experts taking part in the conference had managed to convey the Vietnamese Government's practical and committed efforts to improve effectiveness in infrastructure development, and strictly handle corruption and bribery cases, which eventually would contribute to the achievement of the sustainable development goals.
Bình assigned the Government Inspectorate to continue working with the OECD and ADB and member countries and territories of the initiative to study innovative anti-corruption measures.
Head of the Chief Inspectorate Lê Minh Khái said the results of the discussions had helped to define the orientations and actions for anti-corruption efforts on infrastructure projects in the region.
The success of the conference did not just lie in the recognition of anti-corruption efforts from member countries and territories, but also served as a chance to deepen relations between members of the initiative and important partners, Khái said. — VNS