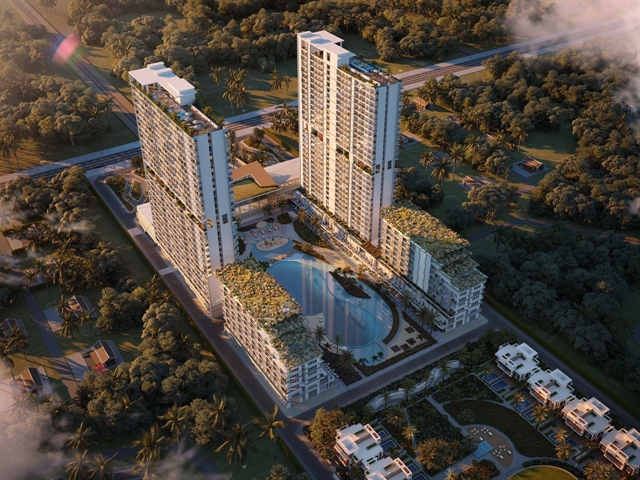 HCM CITY — Prices of condotels have dropped by 8 per cent this year compared to 2018 following disruptions in the profit commitments made to buyers, according to real estate portal Batdongsan.com.vn.
The website has released an overview of the real estate market this year, noting the "gloomy" signs in the condotel segment next year.
"The year 2020 will be a tough one for the condotel segment as investors are losing confidence after the recent failure by a developer to commit to paying a huge yearly profit of 12 per cent to its customers," it said.
The average price of condotels nationwide dropped from VNĐ40 million (US$1,723) per square metre last year to only VNĐ35 million in the fourth quarter this year, a fall of 8 per cent year-on-year.
The potential of the condotel segment is considered less attractive than other products such as condos, villas, townhouses and land plots in the coming year, the website said.
The term condotel refers to a combined condominium and hotel building that is owned like a condo but operates like a hotel.
Huỳnh Phước Nghĩa, deputy head of the International Business and Marketing Department at HCM City University of Economics, said a number of disruptions of condotel profit commitments had occurred in the market, forcing investors to be more careful.
The segment is riskier than others due to limited ownership, limited capacity of developers in operation and management, and especially a lack of legal framework for the sector. In addition, loopholes have been discovered in the commitments on profits, according to Nghĩa.
In the 2016-2017 period and the first half of last year, profit commitments of 10-12 per cent a year, or even 15 per cent a year, were being offered to buyers.
The HCM City Real Estate Association (HoREA) has repeatedly asked the Ministry of Construction to address the potential risks of the condotel market.
Recently, the developer of the condotel complex Cocobay Đà Nẵng announced that buyers would no longer be paid the annual returns it had promised because it was facing financial difficulties.
When it sold the units in 2016, the company committed to pay at least 12 per cent of the cost of units for eight consecutive years, a rate considered too high at the time.
Cocobay is a 51-ha complex in Ngũ Hành Sơn District in Đà Nẵng. Construction began in 2016 at a cost of around $5 billion.
In the first half of this year, more than 11,850 condotel units came on the market, mostly in the coastal markets of Nha Trang, Đà Nẵng, Phú Quốc and Quảng Bình.
But only 25 per cent of them have been bought, according to the Việt Nam Association of Realtors.
According to Lê Hoàng Châu, chairman of HoREA, a guaranteed return is a major factor that attracts condotel buyers.
But a guaranteed return is a sophisticated marketing "trick" since there is no solid legal basis to protect consumers when there is a violation.
A legal framework covering condotel properties is urgently needed to protect the rights of both developers and buyers and to ensure the sustainable development of the property segment, according to HoREA. — VNS