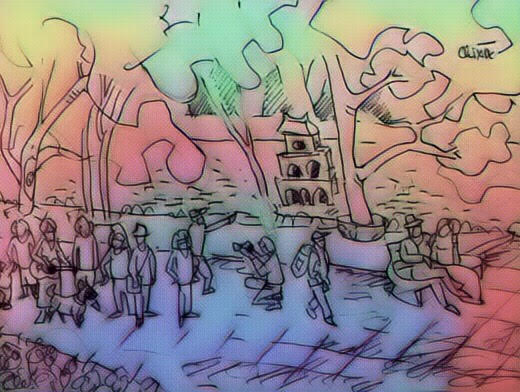 Thu Trang
Have you ever tried getting up early and taking a stroll around Hoàn Kiếm Lake to welcome the glow of dawn in Hà Nội?
Nearly 20 streets around Hoàn Kiếm Lake are converted into pedestrian zones every weekend as part of a project that started in 2016. Over the past three years, they have become an indispensable part of the capital.
It's a place for locals and tourists to relax after a busy working week. On a trip to Hà Nội, besides checking out the famous Ngọc Sơn Temple and Thê Húc Bridge, people can also take time to discover the walking streets as a part of their journey.
Ross said she had been able to find out more about Hà Nội thanks to the peaceful atmosphere and friendly people.
Before arriving in Việt Nam, Ross had heard a lot about the chaotic traffic in Asian countries, so she was a little apprehensive.
But after a morning enjoying the vehicle-free area, her fears were laid to rest.
"It's a wonderful place for everyone, from children to old people, to take part in traditional games or keep pace with animated life," she said.
Statistics from Hoàn Kiếm District showed that on the average, the walking streets attracted about 3,000-5,000 people during the daytime on weekends, and about 15,000 people in the evenings.
More than 1.3 million tourists visited the area in 2016, and the number rose to 1.9 million in 2017 and nearly 2.2 million in 2018.
Thanks to this success, the Hà Nội People's Committee has assigned the Hoàn Kiếm District People's Committee to add more streets to the pedestrian area.
Under the new project, six more streets to the north of Hoàn Kiếm Lake will be added: Đinh Liệt, Gia Ngư, Cầu Gỗ, Hàng Bè, Đào Duy Từ and Ô Quan Chưởng.
However, several people have expressed their doubts about the idea.
Phạm Thu Trang, a student at Hà Nội University, said many streets in the Old Quarter should be used for trade only, instead of exploiting them based on their history.
"Many problems occur when so many people flock to the streets," said Trang.
"People will have to cope with chaos, motorbike parking and rubbish," she added.
During discussions to plan the pedestrian zone, some experts have highlighted the need for the focus to be on quality, not quantity.
More activities should be organised to make the walking streets more entertaining.
I believe we should find a balance between expanding the zone and holding more cultural events along it.
Artist Nguyễn Thế Sơn, a lecturer at the Vietnam University of Fine Arts, said expanding the zone matched the general development of Hà Nội.
More streets would mean more destinations around the famous city were connected. It would help preserve tradition and also ensure modern urban development – a common trend that many countries followed, he said.
"I love Hà Nội. I love studying the culture and history of the city, and I believe many tourists want the same thing as me," said Sơn.
In many countries, walking streets played an important role in improving cultural, economic, social and environmental values.
The most important factor was the participation of the community to set up a clean, safe and modern atmosphere on the streets.
"It's a joint effort to have better walking streets for everyone," said Sơn.
My 10-year-old twin daughters love walking streets around Hoàn Kiếm Lake. They are always excited about going there.
They love taking part in traditional games, or just queuing up to buy ice-cream.
I'm sure that if more streets are added with more cultural events and activities, many children like my daughters, as well as more tourists, will spend time at the most attractive and important part of Hà Nội.
Changes will bring difficulties at first, but then result in the success everyone wants. — VNS