HÀ NỘI – A series of educational events organised by creative, media and technology organisations, galleries and co-working spaces will be held during the Festival of Media and Design.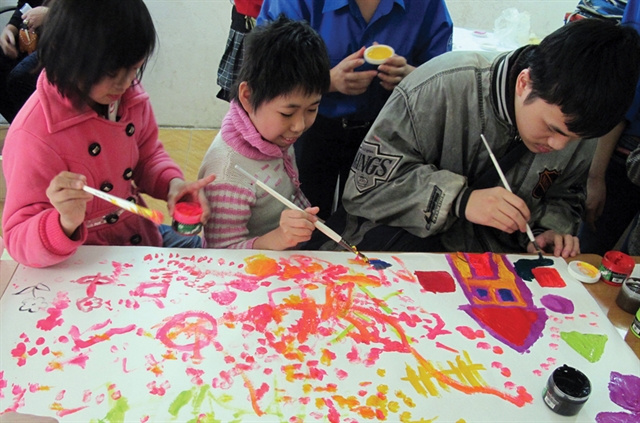 Aiming to recognise and celebrate creativity and culture in Việt Nam, the festival will take place from November 1-11 as part of a collaboration between RMIT University Việt Nam, the United Nations Educational, Scientific and Cultural Organization (UNESCO) and the Việt Nam National Institute of Culture and Arts Studies (VICAS).
VICAS Art Studio, AGOHub, the Centre for Movie Talents, Vincom Centre for Contemporary Art, Friends of Vietnam Heritage, Manzi Art Space and Hanoi Art Map exhibited at the event.
An exhibition of artworks provided by Tò He, a company which creates artistic playgrounds for handicapped children and orphans, will start the festival on November 1. 
That will be followed by exhibitions of creative projects by design students and an exhibition Hidden City with works by professional artists.
Professor Julia Gaimster from RMIT Vietnam University said she was thrilled to be hosting the festival.
"It will be a celebration of the diverse range and richness of creativity and culture in Hà Nội. It demonstrates our ongoing creative partnerships with UNESCO, VICAS and Hà Nội," she said.
"We recently signed a formal agreement with the People's Committee to reinforce a close collaboration in several areas, including promoting Hà Nội as a cultural and sporting capital."
"We've witnessed amazing creative development in the country during this time and the talent of the students has been at an international standard," Gaimster said.
"The opportunities for creative careers in Việt Nam are expanding at a rapid rate, there's definitely a demand for more creative graduates in the city. There is also an increased recognition of the power of the creative industries to further develop the economy."
Head of UNESCO's Hà Nội Office, Michael Croft, said the festival supported an initiative that closely aligned with the vision of Hà Nội as a creative city, particularly in the context of the recent decision by the city to apply to the UNESCO Creative Cities network.
"The timing of the initiative is really opportune, as it will demonstrate clearly that there is a strong coalition who believe that media and design have an important role to play in the city's future – and that these sectors are by nature creative and youth-focused," he said.
He said the festival would connect individuals, groups and organisations who shared a common belief in the significant role creative industries played in the future development of Hà Nội and the country as a whole.
"The festival can become an important annual platform linking partners and initiatives, creating synergies, identifying gaps and focusing energy and effort where it is most needed," he said.
"And it helps build a foundation for growth in this sector, showcasing initiatives that other cities can adapt and apply."
Bùi Hoài Sơn, director of VICAS, said the festival would have a big impact on raising awareness of the importance of creativity and creative education in Việt Nam.
There were two key solutions mentioned in the national strategy for the development of cultural industries in Việt Nam: raising awareness among all government bodies and society about the role and position of cultural industries in the development of society and the economy; and enhancing the quality of human resources in cultural industries, he said. VNS