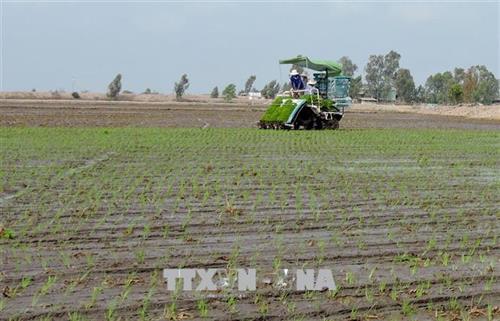 MEKONG DELTA — The area for rice farming in the Mekong Delta and Southeast Việt Nam should be reduced for the upcoming winter-spring rice crop to lessen the negative impact of saline intrusion, according to the Ministry of Agriculture and Rural Development's Department of Crop Production.
The 2019-20 winter-spring rice crop is facing complex hydro-meteorological conditions and a high probability of salt intrusion in the dry season in the Delta, reported the Sài Gòn Giải Phóng (Liberated Sài Gòn) newspaper. 
Salt intrusion might also occur sooner and affect more land than usual, which could affect irrigation systems' ability to withdraw water.
The department has also proposed sowing less rice seeds for the crop, which would result in a lower output. They also advised farmers to take into account that the pest, the brown planthopper, is expected to appear during the rice sowing season.
Lê Quốc Doanh, Deputy Minister of Agriculture and Rural Development, said the water level was falling and the risk of saline intrusion and drought was increasing. 
Provinces should sow seeds earlier in October to avoid salt intrusion, and coastal areas should focus on rice strains that are more resilient to salt and take less time to grow, as well as apply solutions to save water.
Rice farming areas that provide low economic value should grow more profitable products, according to the ministry.
The Department of Crop Production said that around 722,000ha of rice were sown in the Mekong Delta's autumn-winter crop, which was 9,800ha less year-on-year. The output was around 3.9 million tonnes, or 38,900 tonnes less than last year.
So far in 2019, Southeast Việt Nam and Mekong Delta have produced around 25.7 million tonnes of rice, or 197,900 tonnes less than the same period of 2018.
The department said the rice farming areas in the two regions fell by 41,000ha after a switch towards growing products of higher economic value. — VNS