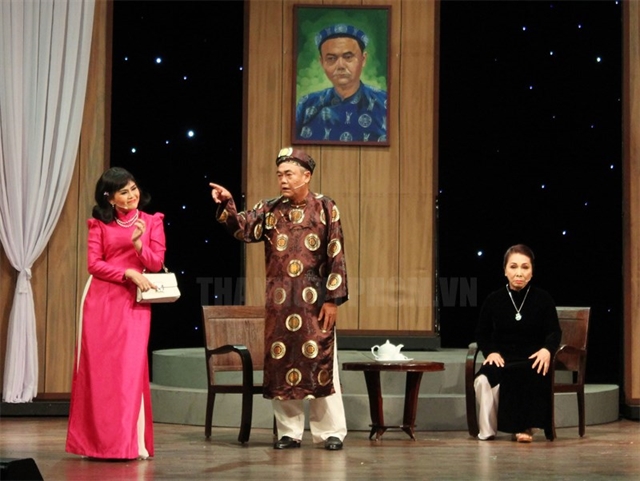 HCM CITY — A workshop featuring cải lương (reformed opera), a traditional theatre genre originating in the southern region, will open on Saturday in HCM City.
The event, Sài Gòn – "Bà Đỡ" của nghệ thuật cải lương (Sài Gòn – The Heart of Cải Lương), will feature talks by cultural researcher and author Trần Hữu Phúc Tiến, who has years of experience in traditional culture, lifestyle and arts of the South. Tiến wrote and released two books on history, culture, fine arts and religion of Sài Gòn in 2016 and 2017.
Cải lương, which originated 100 years ago, was performed by small troupes in the Cửu Long (Mekong) River Delta provinces of Cần Thơ, Sóc Trăng, Cà Mau and Bạc Liêu. The art developed in the 1930s and 40s in Sài Gòn (HCM City now) and is popular among southern people today.
People's Artist Tuyết, who is considered a cải lương guru, will talk and perform at the workshop. Songs and dances of cải lương, which feature the culture and lifestyle of Sài Gòn in the 1950s, 60s and 70s, will be highlighted.
Through her performance, the participants will learn about the history and development of cải lương in different periods.  
The 75-year-old Tuyết has written many books and documentaries on cải lương. She has also travelled to secondary schools around the city to offer free cải lương shows.
The workshop, Sài Gòn- "Bà Đỡ" của nghệ thuật cải lương, is part of the HCM City-based Green Horizon Company's long-term project which aims to preserve and expand Vietnamese traditional theatre.   
It will begin at 3pm on October 19 at Nam Thi House on 37 Nguyễn Thị Diệu Street in District 3. — VNS