Two tonnes of suspected elephant tusks found at Sai Gon port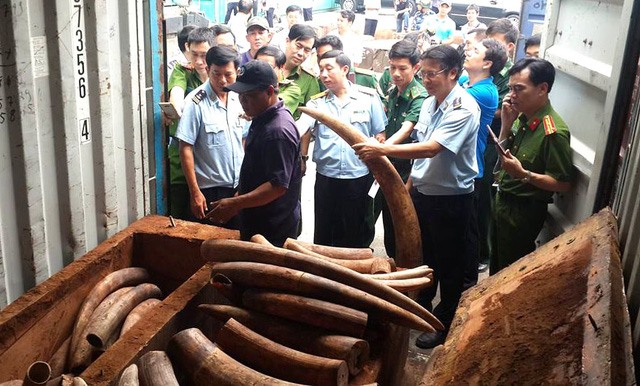 Two tonnes of goods suspected to be elephant tusks were discovered recently at Sai Gon Port by the Customs Office at the port and t he Police Department for Smuggling Prevention C74 under the Ministry of Public Security.
According to the port's Customs Office, checks on a batch of wood imported from Mozambique revealed 12 hollow logs containing 569 chunks suspected to be elephant tusks, weighing a total 2,052kg.
All the suspicious goods were sent to the Institute of Ecology and Biological Resources under the Ministry of Agriculture and Rural Development for identification.
Work starts on new national exhibition and fair centre

The construction of a new national exhibition and fair centre began in Hanoi's Dong Anh district on October 8.
The centre, which replaces the Giang Vo exhibition and fair centre in the downtown district of Ba Dinh, is expected to be the largest of its kind in Asia.
Covering over 90ha in Co Loa, Mai Lam and Dong Hoi communes, it will include inside and outside exhibition areas, a trade promotion centre, a conference centre and other support areas.
Its construction is scheduled to complete in the fourth quarter of 2018.
As one of the 10 key projects in the capital region planning, the centre will act as a driving force for the development of provinces north of the Red River.
PM urges HCM City to develop clean food supply chains

Prime Minister Nguyen Xuan Phuc on October 8 asked HCM City to develop clean food supply chains by collaborating with other localities to form safe farming areas.
He made the request while working with the municipal leaders after suddenly inspecting food facilities in Binh Chanh and Tan Phu districts and a Coop Mart supermarket in District 11.
HCM City need to intensify inspection of food safety and hygiene and encourage food processing facilities to ensure food safety, he said, adding that anyone violating food safety regulations will be strictly punished.
He instructed the southern city to invest more in mobile testing labs in wholesale markets as well as equipment to check food safety.
According to the municipal leaders, HCM City has paid due attention to ensuring food safety, with the development of clean and safe food production models, the formation of safe food supply chains and the application of good manufacturing practices (GMP) and a HACCP -based food safety management system.
However, due to small-scale production, the city's agricultural output only meets 20 to 30 percent of its demand and the remaining has to be imported from other localities.
Since September 1, 2015, the competent forces carried out inspections on food safety at 1,158 out of 7,097 facilities and fined 396 ones.
Earlier, the PM made a fact-finding trip to Tan Phu district, where he enjoyed a pho bowl at small eatery, checked the process of preparing meals for workers in Binh Chanh district and visited a Coop Mart supermarket on Ly Thuong Kiet street.
Charity gala raises 20 billion VND for children with heart diseases

A charity gala on October 8 night raised nearly 20 billion VND (900,000 USD) for the charity fund A healthy heart for you, which sponsors operations for poor children suffering from heart diseases.
Vice President Dang Thi Ngoc Thinh attended the event, which was co-organised by Vietnam Television and the military-run telecom group Viettel.
At the gala, participants met with many lucky children who have regained normal health and go to school thanks to the fund, and generous benefactors who donated to help cure the disadvantaged young patients.
The annual event has raised a total 110 billion VND (4.95 million USD) after eight years. The money was used to pay for operation for more than 3,000 under-16 heart patients.
Besides, the fund has also coordinated with hospitals to organize heart disease screening for over 30,000 children from disadvantaged background in remote areas.
OceanBank leaders prosecuted

OceanBank's former chairman and 15 of its top leaders will be tried for their involvement in one of the biggest economic crime cases in Việt Nam this year, police said yesterday.
The Investigation Police Department announced they have concluded their three-year investigation and requested the Supreme People's Procuracy to prosecute the local OceanBank former Managing Board Chairman Hà  Văn Thắm for his leading role in causing an estimated loss of VNĐ1.55 trillion (US$69 million) for the bank and for the State.
The 44-year-old Thắm was arrested in late October, 2014. Yesterday's police announcement means he will be tried on charges which include breaching loan regulations of credit institutions, intentionally acting against State laws causing serious consequences, fraudulent acts and abuse of power.
Thắm was said to have abused his power as the bank's top leader to withdraw bank money for personal use, leading to non-retrievable losses of trillions of đồng, which "badly affected the country's economy and negatively influenced the implementation of the State's fiscal and monetary policy", police said.
According to the police, Thắm personally ordered the OceanBank Board of Directors to approve a loan of VNĐ500 billion to Phạm Công Danh, former Managing Board Chairman of the Construction Bank. The amount of the illegal loan was above the regulated limits, and the loan was pushed through without collateral assets to secure the loan.
Meanwhile, Danh was also convicted of another colossal banking crime. He was sentenced to 30 years behind bars last month for his violations which caused losses of VNĐ9 trillion for Construction Bank.
As for his other excesses, Thắm also requested to pay customers a rate of interest above the standard rates regulated by the State Bank of Việt Nam (SBV), which cost OceanBank more than VNĐ984 billion.
Nguyễn Xuân SÆ¡n, former general director of OceanBank, will also be prosecuted for joining hands with his boss to charge customers additional fees via one of Thắm's shell companies – the BSC Co, JSC, which initially registered to operate in real estate. At least VNĐ70 billion went into SÆ¡n's pocket since the bank started implementing its illegal fees.
Sơn and another former general director, Nguyễn Minh Thu, were both charged with abuse of power and intentionally acting against State laws on economic management, causing serious consequences.
Two ex-deputy general directors, four directors, a deputy director head of a bank section, and six directors of bank branches will also be tried for their involvement in a series of bank management violations from 2011 to 2014. Phạm Hoà ng Giang, former general director of Thắm's BSC company, will also be prosecuted.
The police said 49 more OceanBank branch and transaction office directors who followed orders and paid customers extra interest would be investigated later.
Police will also investigate eight customers who left OceanBank with bad debts of more than VNĐ2.6 trillion during the next stage of their investigation.
Under Thắm's direction, OceanBank's bad debts climbed to nearly VNĐ15 trillion, with pre-tax losses reaching more than VNĐ10 trillion as of March 2014.
The OceanBank case is one of the six biggest economic crimes which the Central Steering Anti-Corruption Committee asked to bring to trial by the first quarter of 2017, at the latest.
SBV nationalised OceanBank in May last year.
HCM City Vietnam-Japan Friendship Association holds Congress

The Vietnam – Japan Friendship Association of Ho Chi Minh City convened its second congress for the tenure 2016 – 2020 on October 9.
Nguyen Cong Chanh was re-elected as the association's Chairman, heading a 31-member-executive board.
The Congress agreed to improve its activities towards organising more cultural, artistic and educational exchanges, in order to strengthen the bilateral friendship, solidarity and cooperation between Ho Chi Minh City and Japan.
The association will also continue working as a consultant and a bridge for businesses of Vietnam and Japan.
At the event, Huynh Minh Thien, Vice Chairman of the HCM City Union of Friendship Orgnisations said the association has been an active member of the Union over the past five years, and contributed to enhancing the partnership between Ho Chi Minh City and Japan's localities in education, culture and economy areas.
Exhibition showcases products for blind people

An exhibition introducing products and services accessible to everyone, especiallypeople with blindness, opened on October 7.
Titled "Dialogue in the Dark and Accessibility for the Blind in Vietnam", the two-day exhibition was held by Vietnam Blind Association (VBA), Accessible Design Foundation of Japan (ADFJ) and Friends Holding Hand to EmpoweR (FHHER).
Visitors will experience some activities in a dark room with the guidance of blind people to understand their difficulties and abilities.
VBA Chairman Cao Van Thanhhighlighted the difficultiesfacing blind peoplein Vietnam and called for support and care for them.
He said blind people hope to receive help from shop clerks and volunteers while shopping or travelling. Many blind people also want to use products withBraille or voice instruction in their homes and public places.
At the exhibition, VBA andADFJ encouraged businesse s to producespecialised tools for blind people as well as electronic devices with voice supporting software.
"Dialogue in the Dark" began in 1988 and has been expanded to 40 countries and territories to raise public awareness of assisting the blind.
Germany's Unification Day marked in HCM City

The German Consulate General in HCM City on October 8 held a ceremony marking the 26th anniversary of Germany's Unification Day (October 3, 1990-2016).
Speaking at the event, Tran Vinh Tuyen, Vice Chairman of the HCM City People's Committee, congratulated Germany on the achievements it has attained in the past years and expressed his pleasure with the fruitfully developing cooperation between Germany and Vietnam, including HCM City.
HCM City is proud of making contributions to constructing and developing the friendship and strategic partnership between Vietnam and Germany, he said.
The city is not only Germany's leading trade partner but also a venue for many typical cooperation programmes between the two nations, he said, adding that it also serves as a bridge for Vietnamese and German enterprises.
On his part, Germany Consul Ggeneral Andreas Siegel spoke highly of the progressing relationship between Vietnam and Germany. Germany is Vietnam's largest trade partner in Europe while Vietnam is an attractive destination for German investors.
HCM City plays an important role in fostering Vietnam-Germany relations as it houses key joint projects like the German House and the Vietnam-Germany University, he said.
He vowed that the German Consulate General will try its best to speed up the implementation of projects signed between the two countries, thus actively contributing to developing their strategic partnership.
Complaints over resettlement due to unclear rules: PM

Appeals related to land issues occur due to inadequate and unclear land withdrawals, Prime Minister Nguyen Xuan Phuc said at an online conference on receiving public opinions in Hanoi on October 7.
A report by the Government Inspectorate showed that between 2012 and 2015, State administrative bodies received more than 1.5 million complainants, a 4.3 percent decrease compared to the previous period; and dealt with 778,700 cases, including over 18,300 cases involving groups of complainants.
The Government Inspectorate pointed out that the majority of mass appeals originated from previous years and had yet to be resolved. Many cases were addressed in line with law but people continued to complain.
Complicated cases mostly involved compensation for site clearance or land withdrawal for development projects.
According to the Government Inspectorate, laws related to land issue have been improved but in many cases, relations between the State, investors and land users have not been harmonious, whereas weaknesses are still found in certain land policies.
The number of petitions associated with land withdrawal, compensation for site clearance did not decrease as compared to the period before the Land Law 2013 came into effect.
Addressing the event, PM Phuc said the country had seen a decline in the number of appeals and petitions but an increase in cases involving many people over the past four years, particularly in Hanoi and HCM City.
The Prime Minister requested authorised bodies to clarify the reasons behind the rise and seek solutions.
"It is necessary to grasp that up to 70 percent of administrative complaints were related to land issues, of which 40 percent were involved in the withdrawal of land for resettlement.
"Is the land withdrawal for resettlement a major cause behind increased mass appeals?
"Numerous complaints are related to compensation. If we continue sticking to the previously-defined land price, it will be impossible to ensure minimum living standards," he said.
"Resettlement must ensure a life equal to or better than the previous inhabitation."
On the occasion, he urged leaders of ministries, departments and sectors to abide by the Politburo's Instruction 35 on increased Party governance on receiving complaints, and the Prime Minister's Instruction 14 which regulates the implementation of the Law on Fees and Charges 2016.
These bodies must review, and reassess the compliance with legal documents and the Party Central Committee's instructions on related works in each agency, ministry, sector as well as officials responsible for the work, he said.
Disadvantaged provinces receive mobile libraries

The Ministry of Culture, Sport and Tourism handed over library trucks to five disadvantaged provinces with large number of ethnic people on October 7 under the "Multimedia Mobile Library" project.
The provinces receiving library trucks on the occasion of the week of lifelong learning (October 2-9) were Son La in the north, Nghe An and Quang Nam in the central region, Gia Lai in the Central Highlands and An Giang in the Mekong Delta.
Addressing the event, Minister of Culture, Sport and Tourism Nguyen Ngoc Thien said that the "Multimedia Mobile Library" project aims to bring information and knowledge to people living in remote and poor areas through encouraging reading culture and lifelong learning.
The "Multimedia Mobile Library" project was launched by the Library Department of Ministry of Culture, Sport and Tourism in late 2015. It has received support from many donors, with Vingroup as the main sponsor.
Each mobile library has more than 3,000 books, 10 computers, projectors, digital documents, audio books and supporting devices for people with blindness.
South to cut winter rice growing areas

The Southern region plans to reduce the cultivation area of the winter-spring rice crop 2016-17 as drought and saline intrusion are expected to affect the area.
About 1.6 million hectares of rice are to be planted in the 2016-17 winter-spring crop, down about 5,000ha compared to the 2015-16 winter-spring crop, according to the Ministry of Agriculture and Rural Development's Plant Cultivation Department.
Of the figure, the Cá»­u Long (Mekong) Delta, the country's rice granary, will plant more than 1.5 million hectares and the Southeastern provinces nearly 75,000ha.
Speaking at a seminar held in Hậu Giang Province on Oct 5, Nguyễn Văn Hoà , deputy head of the Plant Cultivation Department, said the region would face a shortage of fresh water for the 2016-17 winter-spring crop.
More than 300,000 ha of the winter-spring rice in southern coastal provinces will likely be affected by drought and saline intrusion, he said.
This year the annual flooding has been less than normal in the Mekong Delta because the Mekong River and its tributaries have been lower than normal.
Đặng Văn Dũng, deputy director of the South Centre for Hydrometeorology Forecasting, said salt water intrusion at river mouths in the south would occur earlier than in previous years.
The region was asked to adjust sowing schedules for winter-spring rice to mitigate the impact of salinity intrusion and drought. Hoà said the Plant Cultivation Department had set up sowing schedules for the region.
Under the schedule, the region will sow about 420,000 ha of winter-spring rice this month, continue sowing the remaining areas in following months, and finish the sowing by January 10, 2017.
Lê Quốc Doanh, deputy minister of Agriculture and Rural Development, said the ministry asked relevant agencies to monitor and promptly provide information about saline intrusion to the delta's departments and sectors.
Tăng Đức Thắng, deputy director of the Southern Irrigation Science Institute, said the institute would measure the salinity of water at 39 saline-measuring stations in the delta earlier than usual this year.
The measuring results will be sent to the delta's provinces and media so the delta farmers can start planting rice early.
Participants at the seminar said the delta should use more rice varieties resistant to drought and salinity. In addition, the provinces should dredge canals, consolidate embankments, and store fresh water, they said.
Radiation accident response drill held in Da Nang

A drill on responding to radiation and nuclear accidents was held for the first time in Da Nang on October 7 to examine the central city's capacity of dealing with similar incidents.
The exercise drew the participation of about 100 local police officers, medical workers and radiological technicians. It was also attended by representatives of the Vietnam Agency for Radiation and Nuclear Safety (VARNS), the municipal People's Committee and the science and technology departments of some central provinces.
The simulation involved a pickup truck carrying two Ir-192 radioactive sources which collided with another truck moving in the opposite direction. The pickup's driver and the guard lost consciousness in the accident.
After local residents informed the police about the accident and called an ambulance to tend to the injured, traffic police found that the radioactive sources fell out of the pickup.
The police swiftly notified the municipal Department of Science and Technology of the incident and asked the agency for assistance. At the same time, they sealed off the scene of the accident and rapidly moved local residents from the site.
After receiving the information, Da Nang's steering board for radiation and nuclear incident response ordered relevant forces to handle the incident.
Medical and technical workers used protective equipment to bring the victims out of the scene and looked for the radiation sources. The radiation level at the site was measured and the sources were found and collected in line with technical process.
VARNS Director Vuong Huu Tan said the drill would help Da Nang to gain some lessons so as to adjust their response plan to the reality.
Responsible tourism for sustainable development

Responsible tourism for Vietnam's sustainable development was the main topic of a conference held in Hanoi on October 7.
The event was organised by the European Union funded – project "Environmentally and Socially Responsible Tourism Capacity Development" (EU-ESRT).
Discussions were focused on the project's six year-year results and plans to continue achievements sustainably based on principles of responsible tourism.
Sustainable tourism is both a target of and a solution to tourism development, contributing to providing more jobs and alleviating poverty at tourism destinations, said Nguyen Van Tuan, head of Vietnam National Administration of Tourism at the event.
After six years of implementation, the project has helped increase public awareness of responsible tourism, and responsible tourism has become a significant part of Vietnam's tourism policies and practical activities.
The project successfully carried out the Private-Public Discussion (PPD) mechanism by establishing Tourism Advisory Board (TAB) and Destination Management Operation (DMO), marking crucial progress in the country's tourism management methods.
The 12.1-billion-EUR project was carried out under the instruction of the Ministry of Culture, Sports and Tourism and the Vietnam National Administration of Tourism from 2011 to November 2016. It focused on supporting policy and strengthening institutions, developing organisational structure, building an effective private-public cooperation network and raising public awareness of responsible tourism.
Workshop on Vietnam's reform experience held in Russia

Russian scholars, experts and students in Vietnamese, ASEAN and Asian Pacific studies gathered in a workshop on Vietnam's reform experience.
Hosted by the Centre for Vietnamese and Southeast Asian Studies under the Institute of Far Eastern Studies of the Russian Academy of Sciences, the workshop heard over 20 reports on Vietnam's internal and foreign policies and the country's history, culture and language.
Vladimir Kolotov, head of the Faculty of History of Far Eastern Countries at Saint Petersburg State University , said late President Ho Chi Minh's thought was decisive factor for Vietnam's victory in the war in Indochina, as well as for the country's achievements in economic reform process in late the 20th century and early the 21th century.
Evgheny Kobelev from the Russian Academy of Sciences highlighted the role played by the Communist Party of Vietnam (CPV) in the nation's Doi moi (renewal) process, saying that Vietnam's new foreign policies helped it become more attractive to the international community, thus facilitating the country' economic development.
According to Prof. Tatina Filimonova from Lomonosov Moscow State University , the renewal policy launched by the CPV in 1986 brought a change to Vietnam's literature.
Meanwhile, Ekaterina Starikova from the Saint Petersburg University of Humanities and Social Sciences spoke highly of Resolution approved by the CPV in 1998 on b uilding the Vietnamese culture imbued with national identity. She said the resolution particularly highlighted the conservation and development of cultural identities of ethnic minority groups.
Speaking at the workshop, Vu Thuy Trang, from the Institute for European Studies under the Vietnam Academy of Social Sciences, briefed participants on achievements in economic development and political stability during the country's Doi moi process.
Cultural exchange event spotlights Vietnam's charm in Japan

A cultural exchange show promoting the beauty of Vietnam's land and people took place at the Vietnamese Embassy in Japan on the evening of October 8, drawing great public attention.
The event featured performances of Vietnamese traditional dances and songs sung in Japanese. Hoang Thi Minh Ha, the wife of the Vietnamese Ambassador to Japan, introduced the cuisine of her home country to attendees and guided them how to use all their senses to enjoy Vietnamese dishes.
Speaking at the show, Vietnamese Ambassador to Japan Nguyen Quoc Cuong recalled the growth of Vietnam from a backward farming nation to a key market in the region and the second biggest rice exporter in the world.
He hoped the event will help Japanese understand more about Vietnam and enhance the two countries' friendship.
Talking with a Vietnam News Agency reporter, Kahoru Odaka from Saitama Prefecture said it was an exciting and meaningful cultural exchange, especially the introduction of Vietnamese food and how to taste them.
The evening was rounded off with participants singing the song "Hana wa saku" (Flowers Will Bloom), the theme song of a NHK project supporting victims of the historic tsunami disaster in Japan in 2011 and local recovery efforts.
Cultural exchange highlights Vietnam-Laos friendship in Malaysia

A cultural exchange was organised in Kuala Lumpur, Malaysia on October 7 to further tighten the solidarity and comprehensive cooperation between Vietnam and Laos.
Attending the event were Vietnamese Ambassador to Malaysia Pham Cao Phong, Lao Ambassador to Malaysia Houmdaophone Soukhaseum.
Addressing the opening ceremony, the two ambassadors highlighted the friendship and comprehensive cooperation between the two nations' diplomatic delegations over the past years.
They expressed their delights at the respective nations' all-around development and believed that with regular high-level visits by high-ranking leaders, the bilateral relations will further develop in the future, contributing to maintaining peace, stability and development in the region and the world as well.
The Lao ambassador took this occasion to thank Vietnam for its support for his country in hosting the activities of ASEAN during the time when Lao assumed the grouping's Chair.
Kien Giang works to promote sustainable poverty reduction
Authorities of the Mekong Delta province of Kien Giang intend to mobilise nearly 3.3 trillion VND (around 148.5 million USD) from all sectors to realise its sustainable poverty reduction goals.
The locality aims to cut the number of poor households by 1-1.5 percent annually and help about 30 percent of households with difficult circumstances in coastal and inland areas escape poverty.
The plan also seeks to provide vocational training to 1,000 labourers from poor and near-poor families and those from ethnic minority groups.
Additionally, local authorities planned to arrange 304 billion VND (13.7 million USD) to support over 10,000 poor households to construct and improve their houses from now to 2020.
In response to the "Month for the poor" from October 17-November 18, the provincial Party Committee urged all Party organisations, the Vietnam Fatherland Front (VFF)'s local chapter, sectors, and organisations to raise funds for local poor people.
Campaigns have been intensified to raise public awareness of sustainable poverty reduction.
Local authorities have implemented the national target programme on poverty reduction and social security of the Government, and the campaign "Day for the poor" launched by the VFF Central Committee, contributing to helping local poor households.
Poor families in the locality have been provided access to low-interest loans, free medical check-ups and vocational training courses.
However, the rate of poor households in Kien Giang remains high. Under the new criteria for the poverty line in the 2016-2020 period, Kien Giang has over 41,200 poor households and 13,700 near-poor families accounting for 9.7 percent and 3.2 percent of the province's population, respectively.
Vietnam wins first prize at Int'l Reply Coupon competition

Vietnamese painter Nguyen Du from Vietnam Post won first prize in the Universal Postal Union (UPU)'s competition to design a new International Reply Coupon (IRC).
Du surpassed 10 other international artists to win first prize. His sample will be used from 2017 to 2020 for exchanges between UPU members.
On the theme "Posts and Sustainable Development", Du created an image of a messenger pigeon and human hands with North Pole as the background.
The UPU introduces a new IRC design at the beginning of each four-year work cycle. In recognition of the 2016 UPU Congress host city Istanbul, the new IRC will be called the Istanbul model.
Vietnamese students' day in RoK
The Vietnamese Students' Association in the Republic of Korea (VSAK) hosted the 12th Vietnam students' day in Seoul on October 9 in celebration of 24 years of friendship between the two countries.
The event aims to create a venue for Vietnamese and Korean students to boost solidarity and popularise the image of the Vietnamese land, people and culture to international friends, especially those from the RoK.
Vietnamese Ambassador to the RoK Pham Huu Chi spoke highly of the VSAK's achievements, with over 5,000 Vietnamese students in the host country enthusiastically participating in learning movements, research, sports and cultural exchanges.
He said that the Navy High Command presented a certificate of merit to the Vietnamese community in the RoK in recognition of their contributions to safeguarding Vietnam's sovereignty over seas and islands.
The organising board granted 10 scholarships from Hanshin Construction Company, which funded the event, to outstanding Vietnamese individuals and units.
The event included a music and dance performance and a fashion show with nearly 1,000 students from both countries participating.
Scholarships for first-year students in Mekong delta

Scholarships were presented to 202 standout first-year students in Mekong delta localities who have been living in difficult circumstances.
A ceremony to present the scholarships was held in the Mekong delta city of Can Tho on October 9, by Ho Chi Minh City-based Tuoi Tre (Youth) newspaper and the 11 provinces and cities in the region.
Each scholarship is worth seven million VND, sourced from the sponsors of a golf tournament, organised by Tuoi Tre newspaper and other partners to raise funds for students in underprivileged living conditions.
Vo Van Kiet from Soc Trang province is an example. Though he lost both hands in a traffic accident, he mastered using his feet and became a software student in Can Tho university in 2016.
In 2016, Tuoi Tre newspaper coordinated with 63 provinces and cities nationwide to award scholarships worth over 10 billion VND to over 1,400 students with disadvantaged living conditions.
Between 1988 and 2015, the newspaper handed out 44,500 scholarships.
The Mekong delta region consists of Long An, Vinh Long, Can Tho, Soc Trang, Tra Vinh, Bac Lieu, Ca Mau, Kien Giang, An Giang, Hau Giang and Dong Thap.
Health insurance coverage to surpass 79 percent at year's end

The health insurance coverage will reach around 79 percent by the end of this year compared to the set target of 76 percent, Health Minister Nguyen Thi Kim Tien reported at a meeting of the National Assembly's Committee on Social Affairs on October 8.
The Minister said the sector is also likely to surpass another NA-set target, which is the rate of hospital beds per 10,000 people this year. The rate is estimated to reach 25 beds per 10,000, while the goal is 24.5.
The sector is pushing ahead with measures to improve medical service quality, particularly reduce the overload at central-level hospitals.
According to Minister Tien, the network of satellite hospitals has been expanded across all 63 centrally-run cities and provinces, with 22 core hospitals and 98 satellites, which helped reduce the number of patients seeking treatment at central hospitals. An emulation campaign on enhancing medical staff's services and improving hospitals' hygiene has also brought positive outcomes.
Regarding health insurance, the minister quoted statistics as showing that 73.66 million people have joined insurance or 79.5 percent of the population.
On the other hand, the health sector is yet to address the big gap in medical service quality and health index between regions.
The NA Committee also expressed concern about outstanding problems such as the outbreaks of infectious diseases including dengue fever and hand-foot-mouth, and food safety.
The financial balance of the health insurance fund is another matter of concern, while the need for medical care is increasing.
The committee members asked the health ministry to clarify whether the raise of medical service fees will actually result in higher quality. Some pointed to the fact that payment procedures for health insurance are complicated, discouraging many from joining insurance.
The committee urged the health ministry to mobilise investment from all possible sources to expand medical services at grassroots level, including the model of family doctors.
The ministry must also continue with measures to maintain the rate of vaccination against infectious diseases at more than 90 percent of target groups, and to further improve medical service quality.
Kidney stone treatments improving

Treatment for urinary kidney stones, a common health problem in countries with a tropical climate, has become more advanced in Vietnam, but surgery is often required because patients wait too long to visit the hospital, according to doctors at Binh Dan Hospital in HCM City.
Dr Nguyen Phuc Cam Hoang, deputy head of the hospital, said the hospital had seen a 30 percent increase in kidney stone incidences compared to two years ago.
Many patients do not have regular health check-ups and often come to the hospital when the stone has enlarged to 20 millimetres or more, which requires surgery.
A 61-year-old patient, for example, was recently brought to the hospital for severe pain in his left abdomen, which had caused difficulties in urinating. The pain had lasted for nearly a year.
The doctor's diagnosis was a kidney stone 28 millimetres in diameter.
"An ultrasound scan in a check-up detects 90 percent of cases of kidney stones. Patients often visit the hospital only when they are in pain. By that time, the stone's size is too large," Hoang said.
Hot weather leads to more concentrated urine, which is one of the favorable conditions for developing kidney stones, according to Hoang.
Each week, an average of 30 patients with kidney stones receive surgery at his hospital.
Hoang said that stones were sometimes caused by a poor diet or relapse of infection in the urinary tract.
Doctors at health facilities from the grassroots to central levels in the country have the capacity to treat kidney stones, including standard Percutaneous Nephrolithotomy (PCNL) surgery, which was first performed in Vietnam in 1997.
The European Association of Urology's treatment guidelines updated in 2014 recommend PCNL as the therapy of choice for large renal calculi the size of 20 millimetres or above for certain conditions, according to Nguyen Ngoc Chau of Binh Dan Hospital.
Compared to open surgery, PCNL helps reduce pain during and after surgery and the number of days at the hospital for treatment.
At a recent workshop on PCNL held at Binh Dan Hospital, Dr Nguyen Van An of the hospital said that PCNL surgery was not easy because it could cause significant complications such as blood loss, post-operative pain and potential renal damage as large instruments are needed during surgery.
"With mini-PCNL, blood loss is reduced," An said, adding that Viet Duc Hospital had performed mini-PCNL operations since 2014.
Patients with large kidney stones at Binh Dan Hospital have also benefited from mini-PCNL since 2013. However, the therapy can cause complications including infection, which could lead to death, according to An.
A doctor at 108 Hospital in Hanoi said that he and his colleagues attending the workshop were planning to use the mini-PCNL procedure at their hospital in the near future.
The 108 Hospital has performed standard PCNL on a total of 500 patients.
Two new Zika cases found in southern region

Two people, one from Ho Chi Minh City and the other from neighbouring Binh Duong province, have been tested positive with Zika virus, according to the Department of Preventive Medicine (DPM) under the Ministry of Health.
The patient in Binh Duong is a 27-year-old pregnant woman who lives in Thuan An town while the patient in HCM City is also a woman, 28, in District 9.
The DPM asked the Health Departments of the two localities to investigate the cases and closely monitor the suspected who lives in the patients' areas.
The HCM City Pasteur Institute sprayed chemicals to skill larvae in the areas surrounding the house of the patient.
Vietnam is identified as the country with Zika virus as it recorded three infections in HCM City, Khanh Hoa and Phu Yen.
The Zika virus is transmitted to humans primarily through Aedes aegypty mosquito bites and sexual intercourse.
The symptoms of Zika infection include fever, conjunctivitis, headaches and muscle pains. Zika infection during pregnancy may lead to microcephaly in children, which is responsible for incomplete brain development and an unusually small head.
A vaccine for the Zika virus has yet to be discovered.
VNA/VNS/VOV/SGT/SGGP/TT/TN/Dantri/VNE