Japan's Sanjo city helps Ba Ria-Vung Tau train industry officials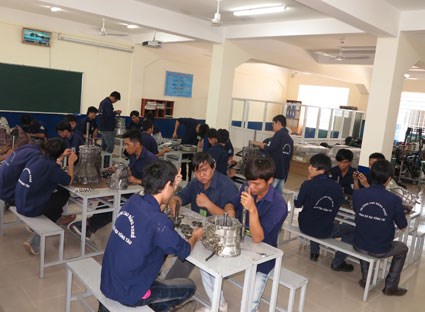 Sanjo city in Japan's Niigata Prefecture has agreed to help the southern province of Ba Ria-Vung Tau in human resource training by receiving apprentices from the province to study and work in Sanjo.
Under a memorandum of understanding (MoU) between the provincial Department of Industry and Trade and Sanjo city's Chamber of Commerce and Industry signed on July 20 during a visit by a Sanjo delegation led by Mayor Isato Kunisada, the two sides will share information and build a win-win cooperation framework.
The deal also allows both sides to continue speeding up a joint programme to assist Ba Ria-Vung Tau in developing human resources and promoting the metal support industry, which is funded by the Japan International Cooperation Agency (JICA).
Together with the northern port city of Hai Phong , Ba Ria-Vung Tau has been chosen by the Government to become a hub of support industry for metal production. The province is building an industrial park covering 1,000 hectares to host firms in the field.
Over the past years, Sanjo and Ba Ria-Vung Tay have enjoyed sound partnership. Nearly 100 vocational teachers, owners of local mechanical firms and officials in charge of human resources and industry from Ba Ria-Vung Tau have been trained in Sanjo to enhance their knowledge in the metal support industry.
Conference highlights impacts of water projects on Mekong delta
Along with the El Nino, projects in the Mekong River's upstream, including hydropower plants, water-diverting and water-use works, are likely to pose serious impacts to the Mekong Delta, heard a conference held by the People and Nature Reconciliation in Hanoi on July 20.
According to a report by the People and Nature Reconciliation, Thailand has started water pumping in Nongkhai and Loei provinces since early this year. However, these are only small works included in the country's large-scale water-diverting plan which has numerous projects.
Meanwhile, neighbouring Cambodia is also diverting water by investing in irrigation works to take or keep water from the river for farming.
Nguyen Nhan Quang, former Deputy General Secretary of the Vietnam National Mekong Committee, who is an independent expert on the river basin management, said that Thailand has the highest number of irrigation works with 6,388 works. Its irrigated land area is only second to Vietnam , he said.
Thailand is planning 990 projects in the northeastern region, mainly to pump water from the Mekong River .
At the same time, Cambodia is investing in the construction of a canal system, mostly in the Mekong basin, said Quang, adding that the total irrigated area in Cambodia is 504,245 hectares and will be expanded to 722,499 hectares by 2030.
In 2030, Laos will add 321,062 hectares of irrigated land to the current area of 166,476 hectares.
In Vietnam , the area is nearly 1.92 million hectares, accounting to 48 percent of the total irrigated land in the Mekong basin.
Under the development scenario to 2030, 339 irrigation work swill be built in the Sesan and Srepok rivers' basin (tributaries of the Mekong ) which covers 125,165 hectares, noted Quang.
According to Nguyen Hong Toan, an expert from the Vietnam National Mekong Committee, the Mekong Delta region would be threatened by Cambodia 's planned dams' construction.
He pointed to the need for members of the Mekong River Commission's members to cooperate and share information of the river's water resources.
Dang Thi Ha Giang, a specialist from the Institution of Water, Irrigation and Environment, held that all water diverting projects should be carefully calculated with agreement among parties.
In the 2015-2016 dry seasons, the Mekong River downstream region and Mekong Delta region in Vietnam in particular, experienced historic drought and saltwater intrusion that seriously affected agricultural production and socio-economic activities in the area.
Vietnam Aviation Academy to be equitised
The plan for the equitisation of the Vietnam Aviation Academy (VAA) will be completed before October 31 to submit to the Ministry of Transport (MoT) for approval, according to Vu Anh Minh, head of the Enterprises Management Department under the MoT.
Minh, also head of the steering committee for the equitisation of the university, said the VAA has signed a contract with the Southern Auditing and Accounting Financial Consultancy Service., Ltd (AASCS) on assessing its value as of the date of March 31, 2016.
In order to ensure the progress of the equitisation plan, in August, the VAA will complete the dossier on its valuation to submit to the MoT for approval and publish the information on September 30 at the latest.
The head of the Enterprises Management Department stressed that the plan will also include a business plan for the first three years following the equitisation.
The VAA was established in 2006 on the basis of the Vietnam Aviation School and operates under the management of the MoT.
Summer Camp youths arrive in Quang Ngai
As many as 110 young expats to the annual Vietnam Summer Camp 2016 visited My Son relic site in the central province of Quang Ngai on July 20.
They offered incense to 504 civilians who lost their lives to the US army's massacre on March 16, 1968.
Pham Ngoc Huyen from Cambodia said she has learnt more about the heritage and relics of Vietnam, its land and people during the visit, adding that she will tell her friends about the Vietnamese culture and history upon return.
The camp is organised by the Ho Chi Minh City's Committee for Overseas Vietnamese Affairs and the Ho Chi Minh Communist Youth Union to bring the youth living abroad closer to their home country with a host of activities held in Ho Chi Minh City and Da Lat city in the Central Highland province of Lam Dong.
The four-day event attracted Vietnamese teenagers and young adults living in Cambodia, Laos, Thailand, the US, Russia, the Czech Republic, Ukraine and so on, alongside those from Ho Chi Minh City.
They will visit a number of beauty spots in the country and discover unique local cultures.
They will be offered a chance to experience daily life on a farm on the outskirts of Ho Chi Minh City and learn about the work of embroidery artists, the craft and tradition of Gong Culture, and how to grow and harvest strawberries in Da Lat city.
The camp has welcomed around 650 youths from 20 countries and territories worldwide over the past 11 years.
Dak Nong province – future growth pole of CLV Development Triangle
The Prime Minister has signed a decision on developing the Central Highland province of Dak Nong into an important growth pole of the Cambodia – Laos – Vietnam (CLV) Development Triangle by 2050.
Under Decision 1439/QD-TTg dated July 19, 2016, Dak Nong province and surrounding areas are also set to become one of the socio-economic hubs of the Central Highlands, which includes the four other provinces of Kon Tum, Gia Lai, Dak Lak and Lam Dong.
The decision specifies tasks towards the targets, including mapping out development plans for the Central Highlands in general and the province in particular so as to optimise local advantages and potential.
The plans should make use of the region's advantages in agriculture, forestry, cross-border economic services, energy, mining and tourism.
Orientations will be defined for the development of cities, industrial parks, border economic zones, tourist attractions, social infrastructure and rural residential areas to ensure equal and sustainable economic growth.
Dak Nong, set up in 2004, covers more than 6,509 sq.km. of land with one town and seven districts. It has a strategic location in terms of security-defence as it is the southwestern gateway of the Central Highlands and shares a borderline of about 130km with Cambodia.
It is among the five Vietnamese provinces in the CLV Development Triangle, which also covers four Cambodian provinces and four Lao provinces.
Health sector seeks to develop domestic medicinal materials
The health sector is seeking to develop domestic medicinal materials to produce drug at home.
According to the Ministry of Health's medicinal materials institute, Vietnam is home to 3,984 types of medicinal plants, 408 species of medicinal animals and 75 kinds of medicinal minerals.
The country boasts about 322 drug producing facilities, including 20 meeting the World Health Organisation (WHO) standards.
The institute is building some specialised areas to grow medicinal plants in northern provinces such as Bac Giang, Yen Bai, Tuyen Quang, Vinh Phuc and Lao Cai, while providing technical transfer in line with conditions in each locality.
It has put forth projects to help local farmers develop particular medicinal plants such as ginseng (Kon Tum), artichoke (Lai Chau and Lao Cai), purple amomum (Thai Nguyen), moringa (An Giang), araliaceous (Lao Cai and Ha Giang), red multiflorous knotweed (Lao Cai and Ha Giang), codonopsis (Quang Ninh and Thanh Hoa), and crocus (Quang Ninh).
Vice Secretary of the Ha Giang provincial Party Committee and Chairman of the local People's Committee Nguyen Van Son said the cool weather with high humidity in Ha Giang plateaus are suitable to develop medicinal plants with high economic values.
In Quang Ninh province, growing medicinal plants is bringing a stable income for household businesses and cooperatives.
Despite the advantages, the development of domestic medicinal material in recent years is facing a number of difficulties due to excessive exploitation without paying attention to preserving and protecting medicinal resources.
Many valuable medicinal species are on the brink of extinction. The production of medicinal materials at home is on small scale and unstable, while the management of medicinal materials has yet to receive due attention, resulting in waste and losses.
Given the fact, the institute proposed the Government focus on directing the implementation of the national master plan to develop medicinal materials until 2020 and with a vision towards 2030.
It called on the health sector to improve mechanisms and encourage scientists to make significant contributions to developing medicinal materials.
It is advisable to set up strong and capable centres to develop high-quality medicinal varieties.
Vietnam uses around 60,000 tonnes of medicinal materials on an annual basis, 80-85 percent of which are imported, mainly from China , according to head of the Ministry of Health's traditional medicine management department Pham Vu Khanh.
The import of medicinal materials without clear origins should be promptly addressed, he said, adding that every week, close to 300-400 tonnes of medicinal materials are imported from China via the Chi Ma border gate in the northern province of Lang Son.
Customs officer suspended as Vietnam probes logging of protected wood
A senior customs officer in Quang Nam Province in central Vietnam has been suspended pending an investigation into a massive case of illegal logging on his watch.
The local police said they seized more than 50 cubic meters of rare wood logged in protected forests on the Laos border, including nearly seven cubic meters found at the customs office at the Nam Giang border gate.
Le Trung Thinh, the office head, has been suspended for failing to report the wood or prove its legal origin.
The investigation began after some locals found logs of Fujian cypress trees hidden near a border guard station on July 9.
Officials said they are expanding the probe and would likely find more wood.
Fujian cypress is a threatened species in Vietnam, where it is considered valuable due to its aroma and exceptional weight. It is used to make art works, furniture, and charcoal.
Central Vietnam has reported the most cases of deforestation in the country, with a number of forest rangers and managers axed or demoted this year for letting the crime occur.
Nguyen Duc Luyen, vice chairman of Dak Nong Province in the Central Highlands, had said at a conference last year that Vietnam is unable to stop deforestation since illegal logging is either condoned or overlooked by authorities.
5 arrested for kidnapping Chinese businessman in Hanoi
Five men have been arrested in Hanoi for allegedly kidnapping a Chinese businessman to demand repayment of a 700,000-yuan (US$105,000) loan he had guaranteed for a friend.
The five, aged 23-37, are Pham Van Tuan, Pham Van Luan, Nguyen Van Mui, Dang Van Linh and Vu Dinh Duong.
The police are hunting for Nguyen Van Nam, 34, the alleged mastermind in the kidnap of the businessman, 43, identified only as T, on July 12.
The five said T was Nam's business partner and had verbally guaranteed the loan.
But after the friend fled without paying, Nam kidnapped T.
Investigators said Nam asked T, who is based in Ho Chi Minh City, to fly to Hanoi where he had the men kidnap him.
They threatened to cut his hands and legs off if he failed to get back the money.
T phoned a friend, who has not been identified, and asked him for the money. But his friend reported to the Chinese embassy in Hanoi, which reported to the Ministry of Public Security.
The police rescued T and arrested the five men at a hotel in Bac Ninh Province on July 14.
The investigations are continuing.
First ward-level centre offers dialysis treatment
After receiving dialysis treatment yesterday at Bình Chiểu Ward Health Centre, a 32-year-old patient said he was relieved that he no longer had to visit a district hospital in HCM City.
"I used to have to go to Thủ Đức District Hospital at 4am and then wait a long time to receive dialysis," he said. "When I was told I could go the ward-level medical centre, I worried about the machine and the quality."
But after his first treatment, the patient, who has chronic kidney failure, was pleased with the results.
"The machine is the same as the hospital's, and the ward is near my house," he said.
Each month, the man, who has end-stage kidney disease, receives dialysis 12 times.
Another patient with a kidney disorder, a female who lives in the area outside the city centre, said the ward-level clinic was similar to Thủ Đức District Hospital.
Dr Nguyễn Ngọc VÄ©nh Phúc, head of the Bình Chiểu Ward Health Centre, said the centre's two machines, as well as medical process and human resources, had been assessed by the city's Department of Health.
The head of Thủ Đức District Hospital, Dr Nguyễn Minh Quân, said that many patients waiting for dialysis treatment at the hospital had lost valuable time at the jobs.
Concerned about the problem, Quân chose the Bình Chiểu Ward, which has 65,000 residents and many industrial parks for a pilot programme. The area is not located near Thủ Đức District Hospital.
Besides haemodialysis, other specialised clinics, including obstetrics, ear-nose-throat and others, operate at the Bình Chiểu Ward Health Centre, he said.
Quân sends his doctors at Thủ Đức District Hospital to work at the ward-level centre, where they train the ward's doctors to perform the procedures independently.
If problems occur in the process, ambulances are available at the centre for transport to the district hospital, he added.
"It is important that we help the centre and encourage trust from local residents," Quân said. "If the centre has qualified health officials, I'm sure that locals will prefer to go there for common diseases."
The head of the city's Department of Health, Tăng Chí Thượng, has praised the pilot programme for haemodialysis at the Bình Chiểu Ward Health Centre.
"The centre is the first in the country to carry out dialysis and to have different specialised clinics. This has been useful for local residents," Thượng said.
If the pilot succeeds, the centre's model, including dialysis, will be offered at two more centres, Hiệp Bình Chánh and Linh Trung.
He said that other districts would learn how to set up dialysis treatment from doctors at Thủ Đức District Hospital.
Thượng suggested that they choose one or two wards with a high population density for such implementation.
Việt Nam has more than 80,000 patients with end-stage renal disease, according to the Ministry of Health. Many centres for haemodialysis nationwide are overloaded and cannot meet demand.
Organic market opens at HCMC's Saigon Outcast
A market selling environmentally friendly products will open at Saigon Outcast on July 24 in HCM City.
The market will sell organic food and beverages, locally grown and homemade food, organic body care and home care products.
It will include activities for family, a kids' corner, and live music performances.
The event will take place from 12pm to 6pm at 188/1 Nguyễn Văn Hưởng Street in District 1.
Group exhibition showcases city life
Galerie Quỳnh is presenting the group exhibition "Dérive" showcasing real and imagined chance encounters in city life.
"Dérive" – French for drift – refers to the "psycho-geographic practice of traveling through various urban environments without any pre-determined itineraries", according to the press release.
The exhibition features works by Hà Mạnh Thắng, Christine Nguyễn, Trọng Gia Nguyễn and Trần Văn Thảo.
The event is open until August 1 at 151/3 Đồng Khởi Street in District 1, HCM City.
Once Upon a Time in Hà Nội: Storytelling workshop
A storytelling workshop will be held at Bluebirds' Nest on July 26, 27 and 28.
Teachers who want to improve their storytelling skills, facilitators, instructors, parents, actors, those who give presentations and those who just want to have fun while going on a collective adventure in the land of storytelling, all are invited to attend the workshop.
Participants will be able to listen to several stories, learn tools on how to memorise and tell stories, practice telling a story in a group, receive feedback and learn how to use storytelling in their own life.
The event will be conducted in English. Ticket costs VNĐ900,000 (US$40). Registration required. Facebook event: https://www.facebook.com/events/134003120360986/
The workshop will take place from 7-10pm. Bluebirds' Nest is at 13 Lane 19 Đặng Dung Street.
HCMC maintain lead at swimming tournament
HCM City maintained their lead at the National Junior Swimming Championships in HCM City yesterday.
In the boys' 12-13, 100m backstroke, HCM City's Trần Trí Tà i bagged a gold medal after clocking a time of 1:04.58. Tà i's teammate Đỗ Đình Thi and Trần HÆ°ng Nguyên of National Defence Sports Centre 5 were the runners-up.
On the women's side, Nguyễn Lê PhÆ°Æ¡ng Thảo of VÄ©nh Long took the gold medal with a time of 1:09.64. Cao Bá Hân and Đặng Hoà ng Bảo Tiên of HCM City got silver and bronze medals, respectively.
Tà i also triumphed in the 100m butterfly with a time of 1:02.90. Trần Lê Thà nh Nhân of Vĩnh Long and Trần Quốc Cường of National Defence Sports Centre 4 finished second and third with a time of 1:04.36 and 1:04.54, respectively.
Meanwhile, Lê Hoà ng Bảo Ngọc of HCM City received a gold medal in the girl's 12-13, 100m butterfly with a time of 1:08.66.
After three days of competition, HCM City has brought home 14 golds, 2 silvers and 19 bronzes. National Defence Sports Centre 4 came second with 13 golds, four silvers and seven bronzes. While National Defence Sports Centre 5 were third with 12 golds, six silvers and five bronzes.
Cần Thơ are bottom of the medal tally with only one bronze medal.
Trang, Linh enter Vietnam Open's second round
Host athletes Vũ Thị Trang and Nguyễn Thùy Linh booked their berths in the second round of the Yonex Sunrise Vietnam Open badminton tournament.
No 4 seed Trang yesterday defeated Cheng Chi Ya of Chinese Taipei 21-12, 23-25, 21-14 in the first round of the women's singles.
"I am not at my best in this competition because of my heel injury. I played with a little difficulty against Cheng but I worked hard and won," Trang said.
She will next play Susanto Yulia Yoshephin of Indonesia. In their first meet two years ago in this tournament Trang came from behind to win 17-21, 21-15, 21-16.
Linh beat Yu Chien Hui, also from Chinese Taipei 21-13, 21-17. Her next rival will be No 3 seed Cheung Ngan Yi of Hong Kong.
The annual tournament will run until Sunday with US$90,000 up for grab.
Goalkeeper error gives Bình Dương a draw
Another mistake by goalkeeper Bùi Tấn Trường led to a regrettable error for defending champions Becamex Bình DÆ°Æ¡ng in the National Cup's semi-final draw against Quảng Ninh Coal yesterday.
A misunderstanding between Trường and Trương Đình Luật brought a ball to Dyachenko Rodion Sergey who easily netted in the 74th minute to level for the visiting side.
Trường committed several serious errors leading to Becamex Bình DÆ°Æ¡ng's losses in the V. League recently.
"We believed in him. These were only technical mistakes. We were sad with the losses but he suffered much more than us during this time (when national leagues enter a sensitive phase and match-fixing is one of the concerns)," coach Nguyễn Thanh SÆ¡n said.
"At present, most of my players are not at their peak, not only Trường, who was my first choice at the beginning of the season," he said.
Earlier, Becamex Bình DÆ°Æ¡ng's captain Nguyễn Anh Đức opened the score from a penalty about 10 minutes after the break.
Mạc Hồng Quân missed his goal near the end of the match when the pole denied him the chance.
The draw puts Quảng Ninh Coal at an advantage in their second leg match on August 3 at the Cẩm Phả Stadium.
In the other semis, Hà Nội T&T beat hosts Quảng Nam 3-2 at Tam Kỳ Stadium.
Samson opened the score in the 14th minute for Hà Nội T&T. Nguyễn Văn Quyết and Phạm Thà nh Lương netted one each in the last few minutes.
Quảng Nam's goals by Phan Đình Thắng and Đinh Thanh Trung were sandwiched between the ones by Hà  Nội T&T.
Minh's Việt Nam Open journey ends
Vietnamese top badminton player Nguyễn Tiến Minh withdrew from the men's singles event in the first round of the Yonex Sunrise Việt Nam Open.
The game took place at Nguyễn Du Gymnasium in HCM City on July 19.
Minh, No 6 seed and world No 34, lost to world No 424 Siril Varma of India.
The Olympian Minh easily defeated his rival 21-6 in the first set, but the 33-year-old player then lost to 17-year-old Varma 7-21 in the second set.
In the third set, while losing to his rival 5-13, Minh asked to withdraw from the game due to ill health.
Earlier, the HCM City-born player had also withdrawn from the Canada Open and the US Open due to health issues.
Minh won the Việt Nam Open in 2008, 2009, 2011 and 2012.
Minh, who won bronze medal at the World Badminton Championship in 2013, and his girlfriend Vũ Thị Trang earned a ticket to compete in the Brazil Olympics next month.
VN, Cambodia in ASEAN football semi-final
Việt Nam will play Cambodia in the semi-final match of the ASEAN U16 Football Championships in Cambodia today.
Việt Nam top group A with 13 points. Cambodia, who beat East Timor 3-0 in the last match of Group B on Tuesday, are second in Group B with 10 points after four matches.
Thailand will face Australia in a semi-final match.
Việt Nam won the tournament in 2006 and 2010.
After the tournament Việt Nam will have a training session in China to prepare for the final round of the AFC U16 Football Championships, which will be held in India from September 15 to October 2.
Hai Duong polluters must clean environment
Authorities of Kinh Môn District in the northern province of Hải Dương have asked businesses that caused pollution to promptly take measures to remedy the issue.
At a dialogue held between local residents, businesses and local authorities on Monday, Vice Chairman of the district's People's Committee Lê Văn Bí said many businesses operating in the district have caused environmental pollution, affecting the living conditions of the locals.
These businesses include Tân Đông Aluminum Ltd. Co, Tân Nguyên Metallurgy Joint Stock Company and Cường Thịnh Cement Company.
A representative from the district's Bureau of Natural Resources and Environment said violations include the release of exhaust fumes, toxic dust and bad odors into the environment, affecting local people's health.
Representatives of more than 12,000 people living in Phú Thứ town in Kinh Môn District, which suffered the most from pollution, said the surrounding environment has been filled with bad smells and exhaust fumes ever since these plants were put into operation. They said many people have suffered respiratory illnesses such as sore throat and pneumonia, as well as cardiovascular diseases.
They complained that they often have to close all their doors and windows, even during summer, to prevent dust from entering their houses.
At the dialogue, many people asked these companies to state where their solid waste and wastewater were discharged. Some people presented evidence showing that these companies dumped waste near residential areas.
In response, representatives from these companies admitted that their plants released exhaust fumes, dust and bad odors during operations. They blamed the problem on faulty machines and equipment, coupled with the unskilled operation of machines.
Tân Đông Company admitted that local people discovered it was dumping waste near residential areas, while Tân Nguyên and Cường Thịnh companies said they hired professional waste treatment companies to treat their waste.
Bí demanded that the companies take immediate measures to deal with the pollution.
In the long-term, these companies must improve their production technology and invest in high-technology to avoid polluting the environment during operations, he said.
The Tân Đông company, which dumped untreated waste near residential areas, was temporarily suspended to deal with the pollution.
HCMC cleans out 18 polluted canal networks
According to the direct of Ho Chi Minh City Party Committee Secretary Dinh La Thang about cleaning up the city's polluted canals, rivers and flows, the HCMC People's Committee required relevant departments and agencies have to finish dredging 18 polluted water and drainage canals in Hoc Mon district and district 12 by the end of this year.
The Committee also directed the Ho Chi Minh City Management Center of Anti-flood Program to plan measures to logically execute work for moving dust mud and litter to prescribed places.
Earlier, Party Chief Thang had a meeting with the electors in Hoc Mon. At the reception, the voters reflected with the city Party Chief about prolonged- years polluted problems on local drainage canals.
Concert celebrates musician Viet Anh's 20-year career
A concert marking the 20-year career of composer and pianist Viet Anh of the HCM City Ballet and Symphony Orchestra and Opera (HBSO) will be held at Hoa Binh Theater in Ho Chi Minh City on July 29.
The music show themed Dong song lo dang (Wandering river), named after the musician's favourite song, will present to music lovers his popular deeply romantic songs that have won audiences' hearts over the past 20 years, such as Nhung mua hoa bo lai (Flower Seasons are Left), Chua bao gio (Never) and Hoa co vang noi ay (When do flowers turning yellow), Dem nam mo pho (Dreaming of streets). The show will also premiere his three new songs.
Pop stars Dam Vinh Hung, Quang Dung, Uyen Linh, Thu Phuong, the Sai Gon Pops Orchestra and others will join in the concert under the baton of conductor Tran Nhat Minh.
Born in 1976, Viet Anh was known for his songs that reached highest positions of the Lan Song Xanh (Green Wave) Music Awards by the Voice of Ho Chi Minh City radio station in the 1990s.
He graduated with a Master of Composition degree from Waikato University in New Zealand in 2011. His works include symphonies, film scores and musical pieces for dance. He has been recently working with the HCM City Ballet, Symphony and Orchestra (HBSO).
Art project features old Saigon
An art project called "Saigon Vi Vu" and featuring images and stories of an old Saigon will be on from Thursday to Sunday in HCMC through a movie, a talk show and a photo exhibition.
Carried out by a group of artists who call themselves Saigon Vi Vu Team and share the same love for Saigon, the project recreates an old Saigon through photos, paintings and documentaries about Saigonese, who have witnessed changes in this 300-year-old city.
The free-entry event is open on July 21 with a movie screening from 6 p.m. to 7 p.m. at BLANC Gallery, 57D Tu Xuong Street, District 3. It is followed by a talk show the next day featuring famous local artist Thanh Loc, and a photo exhibition on July 23 and 24.
The Spa @ The Reverie Saigon among world's best
The Spa @ The Reverie Saigon has recently made "The World's Best New Spas" list according to a CNN article.
The spa features a private salon, treatment rooms for individuals and couples, world-class spa amenities, and modern facilities. In separate facilities, women can linger in the Himalayan pink salt sauna or the color therapy steam room, while men will find an invigorating ice fountain for use in conjunction with the sauna.
The signature treatments distinct to the hotel include classic Vietnamese – a combination of Vietnamese cupping and massage techniques that releases tension and boosts circulation; Thai Oriental – a particularly therapeutic treatment that combines gentle Thai-style stretching with deep massage; and Aromatherapy – a combination of gentle Swedish and deep-tissue techniques applied with a choice of signature essential oil blends, as well as jade stones – known to boost immunity and energy levels, to calm both body and mind.
Other tailored body massage packages include Five Elements – a Tibetan-style massage and Seaweed Hot Stone – a treatment which incorporates seaweed-based products and the application of natural seaweed alongside warm stones.
Guests to The Spa every Monday to Friday from 10 a.m. to 12 p.m. receive 50% off all 60-minute or longer body massage treatments. The promotion is valid until September 30, 2016 and is not applicable with Reverie Harmony treatment.
The Reverie Saigon, Times Square Building is located at 22-36 Nguyen Hue Boulevard & 57-69F Dong Khoi Street, District 1, HCMC.
Improved healthcare services to better satisfy patients, Health Minister
Health Minister Nguyễn Thị Kim Tiến yesterday said that any healthcare provider would be rejected from their work if they broke the code of ethnics and damaged the image of Vietnamese doctors.
The healthcare sector is determined to improve service delivery quality and attitude to patients in order to better satisfy patients and service users. From the middle of last year, the Health Ministry launched a programme on improving healthcare providers' manners and attitude to better serve patients.
Minister Tiến spoke via an online meeting yesterday with health officials across the country, commenting that patients' satisfaction of healthcare services was a top goal for the healthcare sector.
According to reports released at the meeting yesterday, five healthcare providers were fired, seven people were dismissed from their duties, 50 people were assigned to other positions and more than 15,800 people were disciplined as they were found to have committed wrongdoings against patients.
The Health Ministry's hotline – 19009095 – received over 4,000 calls in the last six months, about 40 per cent of which were patient complaints on hospital infrastructure and poor facilities, 28 per cent related to professional procedures and 14 per cent related to healthcare providers' attitude and performance.
Hospitals and healthcare centres must pay attention to both medical services and non-medical services like parking, security, canteens and transportation in hospitals, Tiến said.
She asked hospital managers to review the operation of such services, particularly those provided by companies which are not under the management of hospitals.
"Hospitals must ensure transparent biddings to select providers of such hospital logistic services," she said.
VNA/VNS/VOV/SGT/SGGP/TT/TN/Dantri/VNE