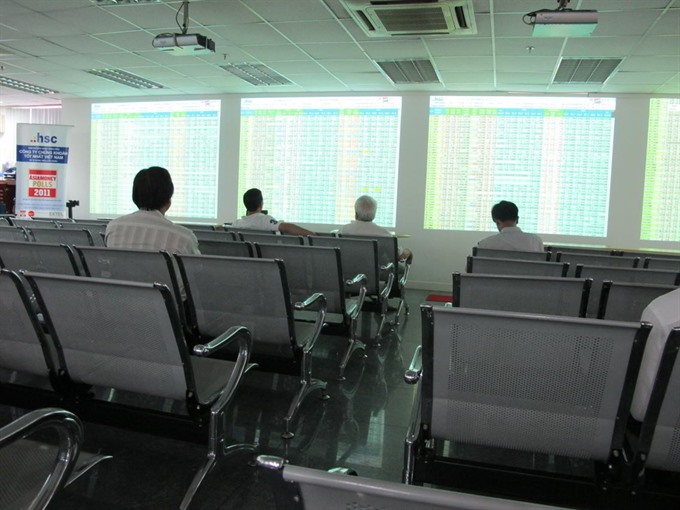 Viet Nam News
HÀ NỘI – Shares rose on both local exchanges on Friday, boosted by big gains for brokerage and energy companies.
The benchmark VN Index on the HCM Stock Exchange gained 0.94 per cent to close at 733.82 points, setting a fresh nine-year high.
The HNX Index on the Hà Nội Stock Exchange advanced 0.78 per cent to end at 92.18 points. The northern market index bounced back from Thursday's 0.5 per cent loss.
The VN Index has posted a weekly gain of 1.2 per cent compared to the previous trading week, and the HNX Index has gained 2 per cent.
More than 281.6 million shares were traded on both local bourses, worth VNĐ6.11 trillion (US$271.58 million).
The stock market was driven up by strong gains of brokerages and energy companies, which saw their sector indices up 5.4 per cent and 0.8 per cent, respectively, according to vietstock.vn.
Among securities companies, HCM City Securities (HCM), Sài Gòn Securities (SSI), Sài Gòn-Hà Nội Securities (SHS) and VNDirect Securities (VND) were the strongest gainers.
Of those four companies, HCM and SHS hit their daily trading limit of 6.9 per cent and 9.6 per cent, respectively.
HCM City Securities on Friday officially erased the limit of foreign ownership in its capital, allowing foreign investors to purchase up to 100 per cent of its shares. Its shares have jumped 12.4 per cent in the last three sessions.
Shares of Sài Gòn-Hà Nội Securities have soared nearly 12 per cent since Tuesday, after the company announced it will pay an 8 per cent dividend in cash for 2016 performance and the list of beneficiary shareholders will be finalised on May 26.
A three-day rally of oil prices in the Asian trading session also helped bolster investor confidence in local energy stocks.
Brent crude gained 1.1 per cent to trade at more than $53 a barrel, totaling a three-day increase of 2.8 per cent. It has made a 9 per cent increase since May 9.
Among local energy stocks, PetroVietnam Gas (GAS) gained 2.2 per cent, PetroVietnam Coating (PVB) added 2 per cent, and PetroVietnam Technical Services (PVS) edged up 0.6 per cent.
Other sectors that also posted good gains included banks, agriculture firms, rubber producers and construction corporations.
The main force behind the market gains on Friday was the shift of investment flow from property developers, which have seen their share prices increase strongly recently, to large-cap companies, improving investor confidence and put the VN Index at its fresh nine-year high, BIDV Securities (BSC) said in its report.
The market condition will remain positive, with the VN Index targeting the short-term peak of 740 points and liquidity increasing strongly and firmly, BSC said. – VNS