Friday, June 05, 2015 – 9:35:36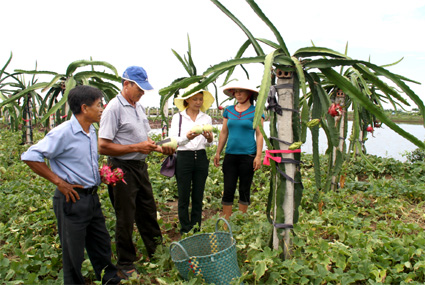 (VOVworld) – Khanh Thien commune in Yen Khanh district is one of Ninh Binh province's 3 communes that have met all the criteria of the national new rural development program since early last year. Significant changes have b

een recorded in Khanh Thien with upgraded infrastructure, improved local living conditions, and an average income per capita of 1300 USD annually. VOV's Hien Luong has the story.
Due to a lack of cultivation land, Khanh Thien has focused on agricultural restructuring, developing other trades, and increasing the number of service workers. A number of trades have developed strongly in Khanh Thien, including vermicelli, griddle rice-cracker making and bonsai growing. Nearly 300 local households have been engaged in bonsai growing which earns up to thousands of USD annually for each household. Thanks to support from local funds for agricultural extension, many households have invested in applying modern technologies to make vermicelli and rice crackers, improving quality and business efficiency. Nguyen Van Goong specializes in making rice cracker: "My family has been involved in making rice crackers for ages. The application of new technology in preparing the flour has saved us a lot of time and effort. It used to take us 3 and a half hour to prepare flour for 200 cakes, but now it takes us only 30 minutes."
Local living conditions have improved significantly. The average income per capita reached nearly 1400 USD in 2014 while the poverty rate has fallen to 2.5%. The local government has attached great importance to improving social security policies. 70% of local people have been registered for health insurance and are provided with primary healthcare at the communal healthcare station. All schools in the communes have qualified for national standards. Nguyen Xuan Thuan lives in Green Market hamlet, Khanh Thien commune: "We've benefited a lot from the national new rural development program with upgraded infrastructure and a more developed economy. We now have new roads, schools, healthcare stations, and even a shopping and service centre called Cho Xanh or Green Market. Local living conditions have increased a notch, both materially and spiritually."
In addition to 4 million USD provided by the central government, the communal authorities have mobilized 4.2 million USD from local resources to implement the program. Local people have contributed thousands of square meters of land to make roads.
After 3 years implementing the national new rural development program, Khanh Thien has completed all of the program's 19 criteria. Pham Minh Xanh is Chairman of Khanh Thien communal People's Committee: "Fulfilling all the criteria of the program is just the beginning. We'll do our best to maintain our achievements and continue to develop in a more sustainable way. In the short run, we'll focus on further upgrading the local infrastructure and improving local income per capita."
Hien Luong